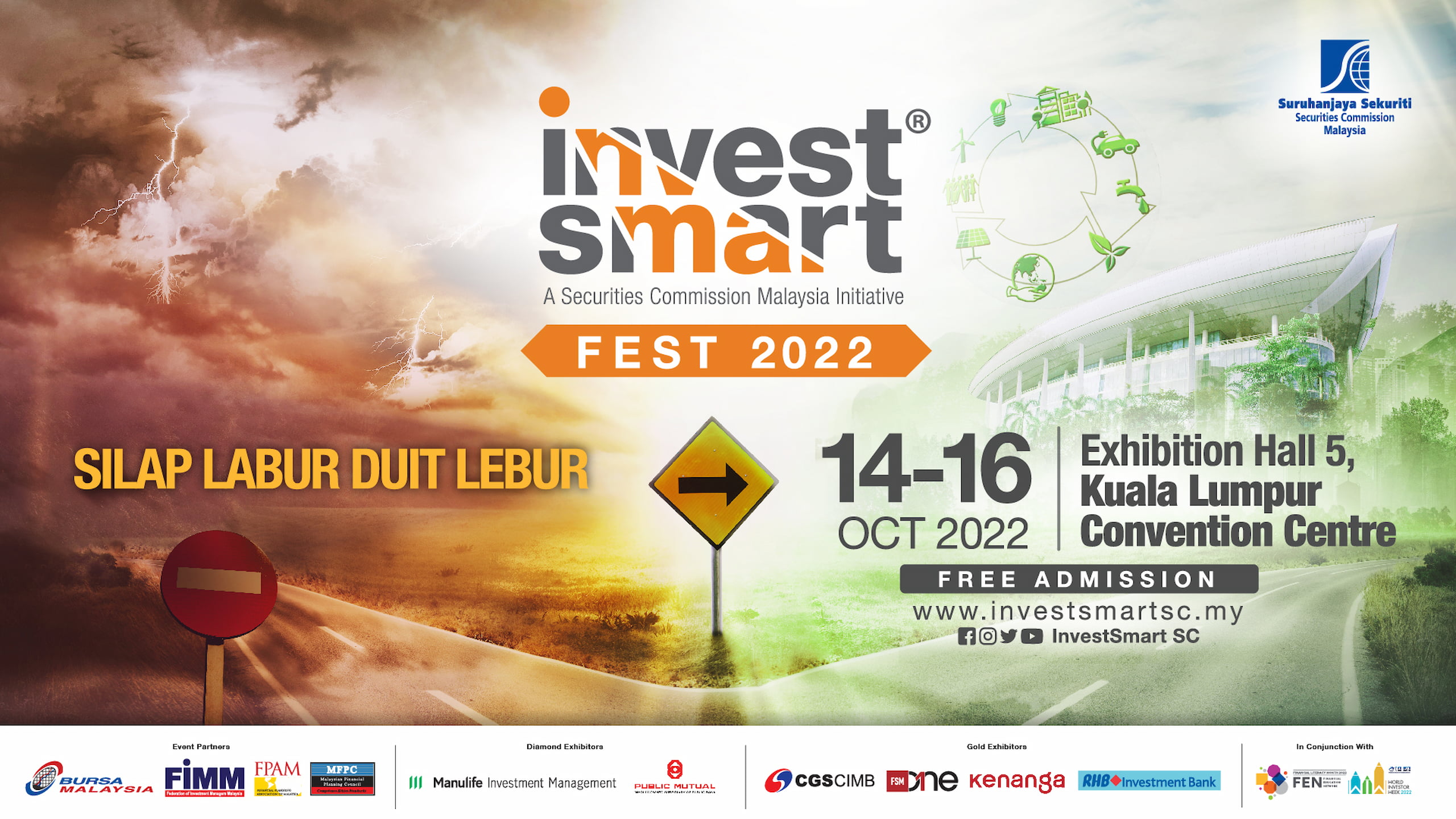 InvestSmart® is the Securities Commission Malaysia's (SC) investor education initiative aimed to create more informed investors who are self-reliant and are able to make investment decisions that are right for them. Since its launch in 2014, InvestSmart® has actively carried our various initiatives to reach out to a wide spectrum of the public throughout the nation, educating them on a range of investment related topics. InvestSmart® initiatives includes the annual flagship investor education event InvestSmart® Fest, Bersama InvestSmart® @ Borneo, SC-in-the-Community, talks, InvestSmart® website, mobile application, online educational game Jump2Invest and social media platforms including Facebook, Instagram and Twitter.
This year, InvestSmart® Fest 2022 ("ISF 2022") will be held from 14 – 16 October at Hall 5, KL Convention Centre, in conjunction with the Financial Literacy Month 2022 and World Investor Week 2022. The 3-day event, themed Silap Labur Duit Lebur aims to remind the public to be vigilant when making investment decision.
ISF 2022 will bring together capital market institutions, associations, industry players and relevant agencies under one roof. The 3-day event will showcase products and services offered by capital market intermediaries including stocks, bonds, unit trusts, private retirement schemes (PRS), exchange-traded funds (ETF), equity crowdfunding (ECF), peer-to-peer financing (P2P), digital investment management (DIM) and digital asset exchanges (DAX).
This event will feature talks, panel discussions and fireside chats by leading industry experts to share their insights on the Malaysian capital market and investment opportunities available.
FREE ADMISSION FOR ALL
Date : 14 – 16 Oct 2022
Time: 10:00 am – 10:00 pm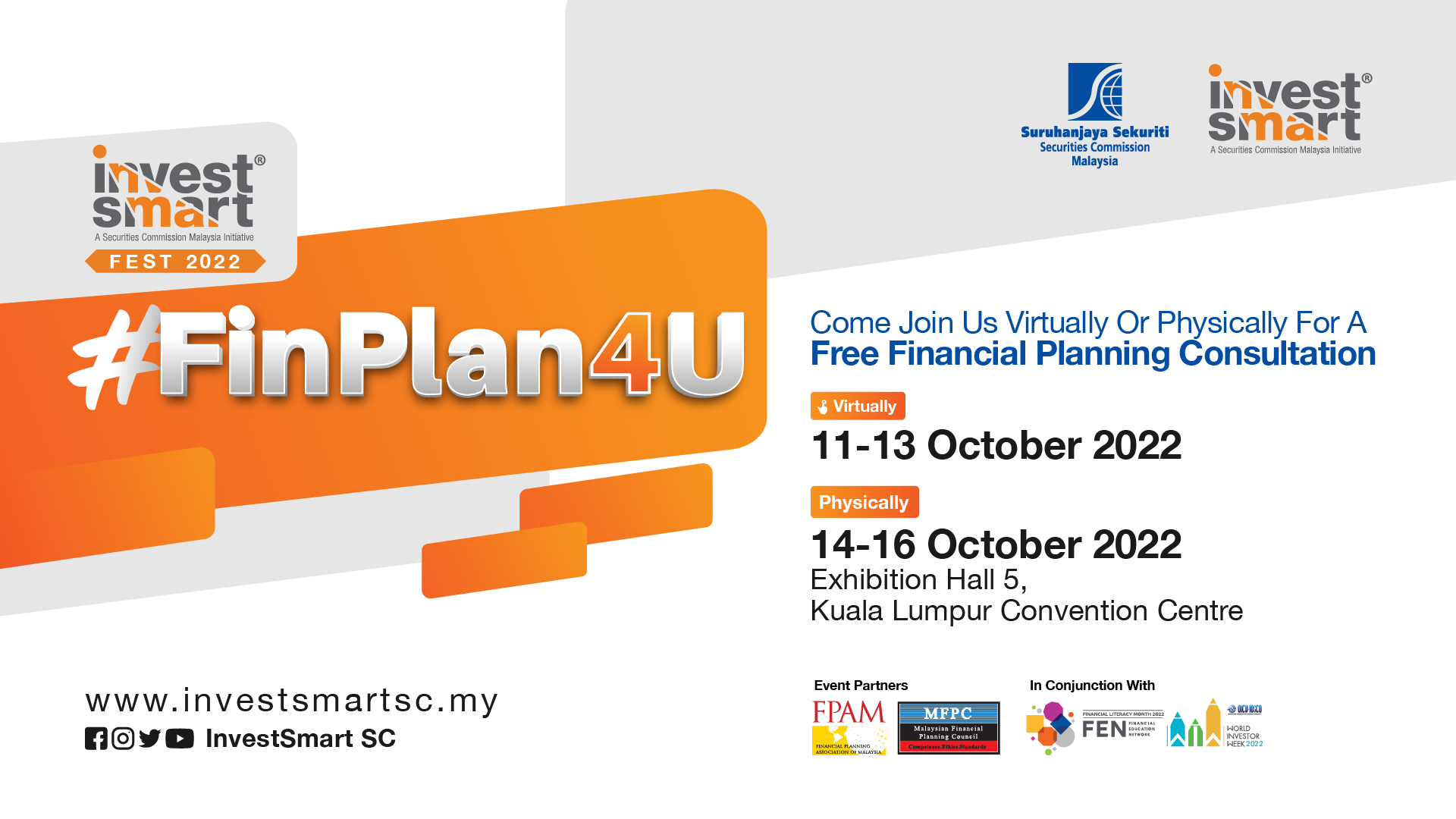 We will once again offer the public complimentary financial planning consultation sessions under the #FinPlan4u. This year, there will be both virtual and physical session to cater to the public. There will be 30 virtual sessions between 11 – 13 October 2022 and over 580 one-to-one sessions during the event. For virtual sessions, please book your session by CLICKING HERE. Registration for virtual sessions will open on 10 October 2022.
The one-to-one physical sessions at Exhibition Hall 5, Kuala Lumpur Convention Centre are available on first come first served basis. No pre-registration required.
Why attend?
LEARN  •  UNDERSTAND  •  INVEST
LEARN – Follow the panel discussion and speaking sessions by industry experts to gain knowledge on capital market products and services.
UNDERSTAND – Engage with more than 30 virtual exhibitors to get better understanding on the products and services offered by them. 
INVEST – Make an informed investment decision and avoid from falling prey to scams.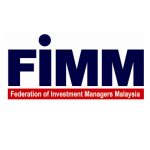 Federation of Investment Managers Malaysia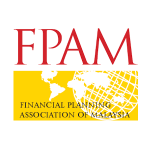 Financial Planning Association of Malaysia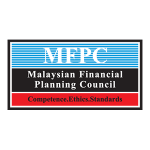 Malaysian Financial Planning Council
Featured Speakers
Adam Zubir, Licensed Financial Planner VKA Wealth Planners Sdn. Bhd.
Datuk Haji Mohd Asri Ahmad, Mentor Pelaburan Saham Syariah Asri Ahmad Academy
Elaine Lockman, President Registered Digital Market Association (RDMA)
Wai Ken Wong, StashAway Malaysia Sdn Bhd
 To view full event programme : [Agenda – downloadable]
Exhibitors
There will be over 40 exhibitors during this 3-day event. These exhibitors will consist of capital market affiliates, industry player including fintech players to show case their products and services. The public is welcomed to visit any of these booths to find out more.


During this event, the public will have the opportunity to win attractive shopping vouchers by participating in our investment game Where Investment Drops! and Mentimeter online quizzes. The public is encouraged to follow our talks to easily answer the question posed during these investment games and quizzes that will happen throughout the 3 day event.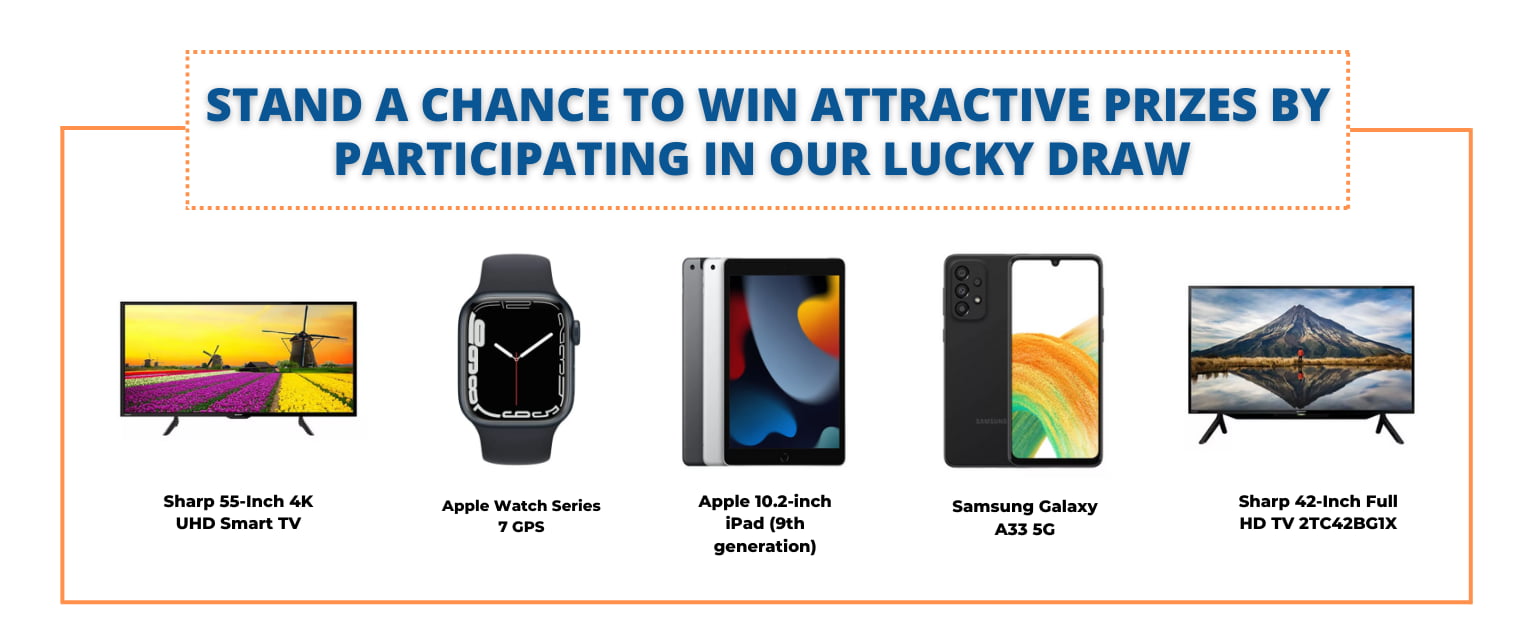 The public will also stand a chance to win great prizes by participating in our lucky draws which will be happening twice a day throughout the 3-day event. To be eligible to participate in lucky draw, you will need to complete the passport activity task by visiting exhibitors' booths and completing our surveys.
Agenda
Time

Details

10:00am – 11:30am

OPENING CEREMONY OF INVESTSMART® FEST 2022

11:30am – 12:00pm

HOW DOES FINANCIAL PLANNING HELP YOU ACHIEVE YOUR RETIREMENT GOALS?

Rafiq Hidayat, Managing Director, Wealth Vantage Advisory Sdn. Bhd.

12:00pm – 12:30pm

MENTIMETER

12:30pm – 1:00pm

MY FUTURE, MY OWN. I, SAVE IN PRS

Samantha Loh, Corporate Engagement & Management Manager, Private Pension Administrator (PPA)

1:00pm – 1:30pm

DISPUTE RESOLUTION IN THE CAPITAL MARKETS – THE VALUE OF A SPECIALIST ALTERNATIVE DISPUTE RESOLUTION AVENUE FOR RETAIL INVESTORS

Winnie Chan Shiau Fang, Acting Senior Case Manager, Securities Industry Dispute Resolution Center (SIDREC)

2:30pm – 3:00pm

A SIMPLE STRATEGY TO AVOID MARKET CRASHES

Kong Seh Siang, Head of Retail Research, CGS-CIMB Securities Sdn Bhd

3:00pm – 3:30pm

UNIT TRUST – HOW IT WORKS

Shahrul Nizam Zainol, Senior Manager, Professional Development & Services, Federation of Investment Managers Malaysia (FIMM)

3:30pm – 4:00pm

WHERE INVESTMENT DROPS!

4:00pm – 4:30pm

SAVVY FINANCIAL TIPS

Winnie Chee Wei Li, Public Mutual Berhad

4:30pm – 5:00pm

LUCKY DRAW

5:00pm – 6:00pm

APAKAH PELABURAN PATUH SYARIAH?

Moderator: Shabana M. Hassan, Islamic Finance TV Personality

Panellists:

·         Dr. Razli Ramli, Senior Lecturer, Azman Hashim International Business School (AHIBS), Universiti Teknologi Malaysia (UTM)

·         Dr. Akhtarzaite Abdul Aziz, Assistant Professor, Department of Fiqh and Usul al Fiqh, Kulliyyah of Islamic Revealed Knowledge and Human Sciences, International Islamic University Malaysia (IIUM)

·         Dr. Haji. Mohd Hafiz Bin Fauzi, Pengarah Kanan, Ketua Divisyen Sumber Dana, Sosioekonomi & Amal Jariah, Yayasan Pembangunan Ekonomi Islam Malaysia (YaPEIM)

6:00pm – 7:00pm

MAKING SENSE OF ROBO-ADVISORS

Moderator: Azrina Azmel, Digital, Securities Commission Malaysia

Panellists:

·         Wai Ken Wong, Country Manager, StashAway Malaysia Sdn Bhd

·         Umamah Amirah Ali, Head of Investment & Operations, Raiz Malaysia Sdn Bhd

·         Muhammad Kamal Mustadza CFA, CAIA, FRM, CPIF, Portfolio Manager, Wahed Technologies Sdn Bhd

7:00pm – 7:30pm

MENTIMETER

7:30pm – 8:00pm

OVERCOMING BEHAVIOURAL FINANCE PITFALLS WITH ROBO-ADVISORS

Ian Lloyd, Group Chief Digital Officer, Kenanga Investment Bank Berhad

8:00pm – 8:30pm

SILAP LABUR DUIT LEBUR! PELABUR YANG DILINDUNGI ADALAH PELABUR YANG BERMAKLUMAT

Amir 'Arif Azmi, Consumer & Investor Office, Securities Commission Malaysia

8:30pm – 9:00pm

LUCKY DRAW
Time

Details

10:30am – 11:30am

REINFORCING TRUST IN THE UNIT TRUST INDUSTRY

Moderator: Kaleon Leong, Chief Executive Officer, Federation of Investment Managers Malaysia (FIMM)

Panellists:

·         Dr. Rosliza Mat Yatim, General Manager, Corporate Services Division, Federation of Investment Managers Malaysia (FIMM)

·         Sahlawati Mustafa, General Manager, Regulatory Services Division, Federation of Investment Managers Malaysia (FIMM)

·         Dennis Loong, General Manager, Industry Services Division, Federation of Investment Managers Malaysia (FIMM)

11:30am – 12:00pm

MENTIMETER

12:00pm – 1:00pm

PELABURAN KRIPTO: PELUANG OR PERANGKAP?

Moderator: Faiz Shamsul, VI College

Panelists:

·         Dato' Fadzli Shah Anuar, Chief Executive Officer, MX Global Sdn Bhd

·         Helmy Kasim, Ketua Pelaburan Syariah, VI College

·         Dr. Taha Mohd Omar, Ph.D Islamic Capital Market, Universiti Sains Malaysia (USM)

·         Wilson Chin, Head of Marketing, Tokenize Technology (M) Sdn Bhd

1:00pm – 1:30pm

LUCKY DRAW

1:30pm – 2:00pm

SEMBANG SANTAI

Muhammad Asyraf Johari, Employees Povident Fund (EPF)

2:00pm – 3:00pm

PENGURUSAN KEWANGAN & PELABURAN PASCA PANDEMIK

Dr. Adam Zubir, Licensed Financial Planner, VKA Wealth Planners Sdn. Bhd.

3:00pm – 3:30pm

WELCOMING THE ERA OF HIGH INFLATION WITH OPEN HANDS

Jason Wong Jia Jun, CFA, Research Manager, FSMOne Malaysia

3:30pm – 4:30pm

SUSTAINABLE INVESTING FOR INDIVIDUAL INVESTORS

Moderator: Azreen Idayu Zainal, Sustainability Department, Securities Commission Malaysia

Panellists:

·         Mohd Farid bin Kamarudin, Chief Executive Officer, RHB Islamic International Asset Management (RHBIIAM)

·         Muazzam Mohamad, Head of Investment Stewardship, Permodalan Nasional Berhad (PNB)

·         Siti Sarah Asha'ari, Senior Manager, Industry Engagement at Bursa Data Business, Bursa Malaysia

4:30pm – 5:00pm

WHERE INVESTMENT DROPS!

5:00pm – 5:30pm

RHB MARKET OUTLOOK: GEARING UP FOR THE COMING QUARTERS

Adam Mohamed Rahim, Research Analyst, RHB Research, RHB Investment Bank Bhd

5:30pm – 6:30pm

ETF – SIMPLICITY, DIVERSITY

Moderator: Cindy Sim, Executive Vice President of Origination and Listing, Bursa Malaysia

Panellists:

·         Chong Lee Choo, Director, ETF & Innovation Lab, Affin Hwang Asset Management

·         Durraini Baharuddin, Managing Director, Value Partners Asset Management Malaysia

·         Ong Soon Chong, Portfolio Manager, i-VCAP Management Sdn Bhd

6:30pm – 7:00pm

MENTIMETER

7:00pm – 7:30pm

SILAP LABUR DUIT LEBUR! HOW TO BE A SMART INVESTOR

Dharvin Menon, Consumer & Investor Office, Securities Commission Malaysia

8:00pm – 9:00pm

PERFORMANCE BY CALIPH BUSKERS

9:00pm – 9:30pm

LUCKY DRAW
Time
Details
10:30am – 11:00am
MENTIMETER
11:00am – 11:30am

HOW TO INVEST SAFELY IN BITCOIN USING LUNO

Ross Stephenson, Community & Education Lead, Luno Malaysia Sdn Bhd

11:30am – 12:30pm

OVERVIEW OF THE MALAYSIAN DERIVATIVES MARKET LANDSCAPE

Alif Nurhaziq Abd Rahman, Head of Equity Derivatives, Bursa Malaysia Derivatives

12:30pm – 1:00pm
LUCKY DRAW
1:00pm – 2:00pm

ECF & P2P: ALTERNATIVE FUNDING FOR MSMES AND INVESTMENT OPPORTUNITIES FOR ALL

Moderator: Elaine Lockman, President, Registered Digital Market Association (RDMA)

Panellists:

·         André Betker, Chief Investment Officer, FBM Crowdtech Sdn Bhd

·         Hafiz Mustaffa, Head of Investment, Ethis Ventures Sdn Bhd

·         Kien Poon Chai, Country Head, Modalku Ventures Sdn Bhd

2:00pm – 3:00pm

MEMBINA TABUNG KEKAYAAN MELALUI BURSA MALAYSIA

Datuk Mohd Asri Ahmad, Mentor Pelaburan Saham Syariah, Asri Ahmad Academy

3:00pm – 4:00pm

SILAP LABUR DUIT LEBUR! DON'T FALL VICTIM TO UNLICENSED ACTIVITIES AND SCAMS

Moderator: Samsunahar Adnan, Assistant General Manager, Securities Commission Malaysia

Panellist:

·         Jawahar Ali, General Manager, Securities Commission Malaysia

·         DSP Suhairon bin Abdullah, Ketua Unit Siasatan Jenayah Cryptocurrency, Polis Diraja Malaysia

·         Vijayadurai Singgatore, Manager, BNM Telelink, Bank Negara Malaysia

4:00pm – 4:30pm
MENTIMETER
4:30pm – 5:00pm

WHY INVESTING IS SIMPLE, BUT NOT EASY

Roshan Kanesan, Head of Content and Strategic Partnerships, GAX MD Sdn Bhd (MYTHEO)

5:00pm – 6:00pm

 SENS-ABILITY: PERSONAL FINANCE & FRAUDS AND SCAMS

Selina SP Dang, Licensed Financial Planner, Coreplus Advisory Sdn. Bhd.

6:00pm – 6:30pm
LUCKY DRAW