Bersama InvestSmart®‌@Penang 2023
InvestSmart® is the Securities Commission Malaysia's (SC) investor education initiative aimed to create more informed investors who are self-reliant and are able to make investment decisions that are right for them. Since its launch in 2014, InvestSmart® has actively carried our various initiatives to reach out to a wide spectrum of the public throughout the nation, educating them on a range of investment related topics. InvestSmart® initiatives includes the annual flagship investor education event InvestSmart® Fest, Bersama InvestSmart® @ Borneo, SC-in-the-Community, talks, InvestSmart® website, mobile application, online educational game Jump2Invest and social media platforms including Facebook, Instagram, Twitter and TikTok.
Bersama InvestSmart®@Penang 2023 is the Securities Commission Malaysia's annual flagship investor education event for retail investors outside of the Klang Valley, and with a view to promote greater awareness of capital markets products and services, informed investment decisions, awareness of rights and responsibilities as an investor, better financial and retirement planning, enhanced wealth accumulation; and greater participation in the capital market.
This year's event will be held at Queensbay Mall, Penang between 26 – 28 May 2023. The 3-day event, themed Silap Labur Duit Lebur aims to remind the public to be vigilant when making investment decision. The 3-day event will bring together capital market institutions, associations, industry players and relevant agencies under one roof. The event will also showcase products and services offered by capital market intermediaries including stocks, bonds, unit trusts, private retirement schemes (PRS), exchange-traded funds (ETF), equity crowdfunding (ECF), peer-to-peer financing (P2P), digital investment management (DIM) and digital asset exchanges (DAX).
This event will feature talks, panel discussions and fireside chats by leading industry experts to share their insights on the Malaysian capital market and investment opportunities available.
FREE ADMISSION FOR ALL
Date : 26 – 28 May 2023
Time: 10:00 am onwards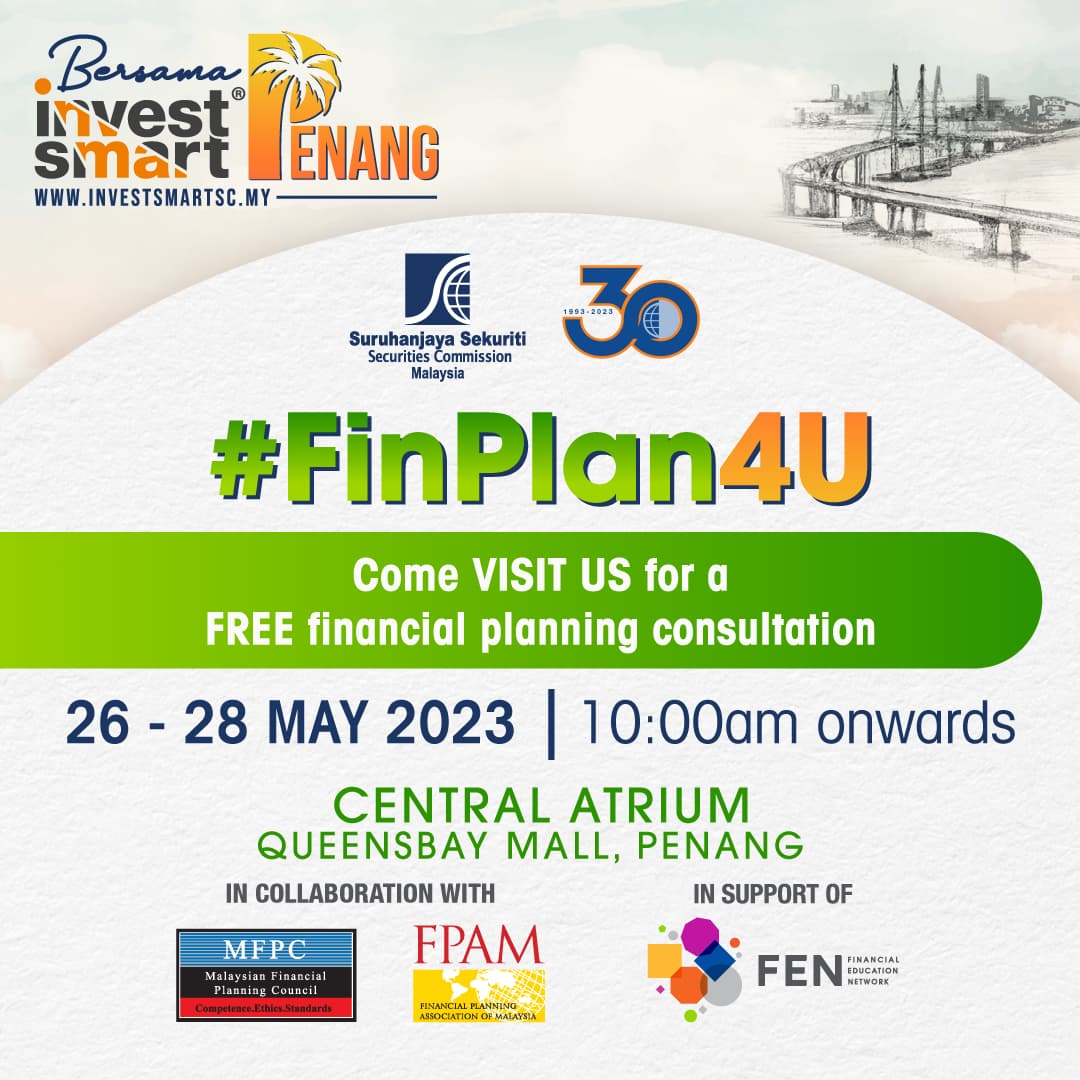 #FinPlan4U
We will once again offer the public complimentary financial planning consultation sessions under the #FinPlan4u. There will be more than 200 one-to-one sessions with licensed financial planners throughout the event. The 1-to-1 physical sessions will be available on first come first served basis at the Central Atrium,Queensbay Mall, Penang from 26 – 28 May 2023 . No pre-registration required.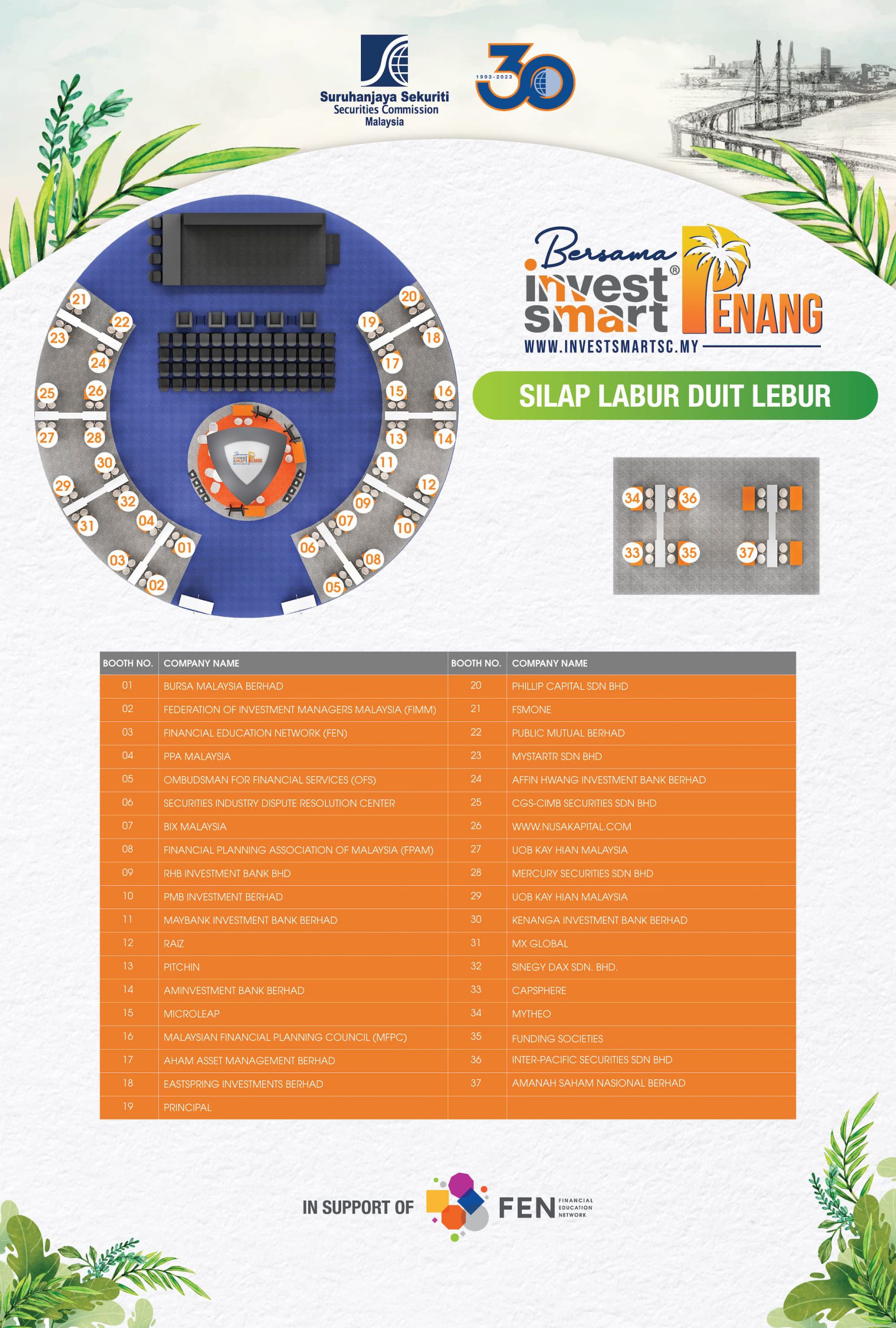 Exhibitors
There will be 38 exhibitors during this 3-day event. These exhibitors will consist of capital market affiliates, industry player including fintech players to show case their products and services. The public is welcomed to visit any of these booths to find out more.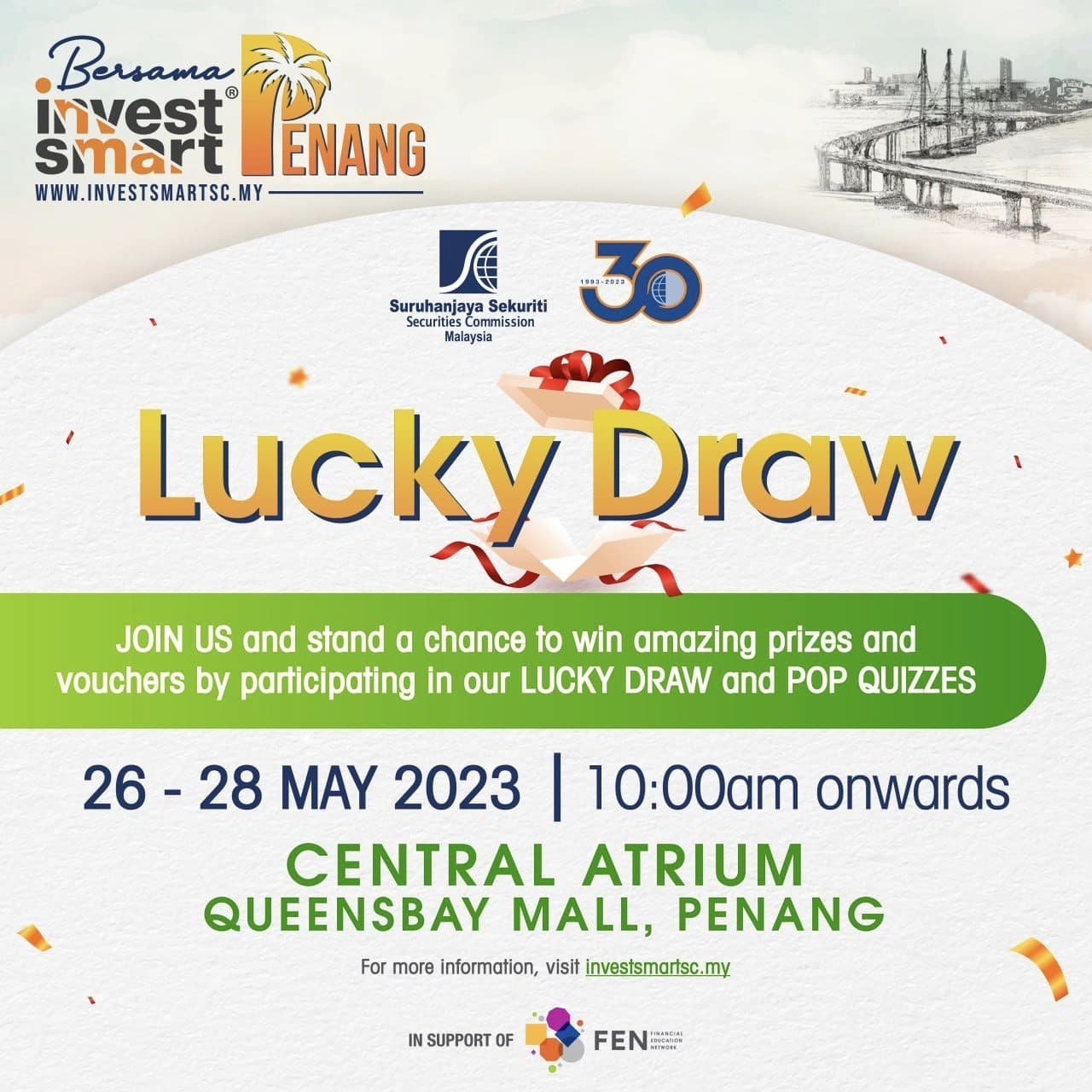 Lucky Draw
Throughout this 3-day event, the public will have the opportunity to win attractive shopping vouchers by participating in our online quizzes. The public is encouraged to follow our talks to easily answer the questions posed during these online quizzes that will happen throughout the 3-day event. The public will also stand a chance to win great prizes by participating in our lucky draws which will be happening twice a day throughout the 3-day event. To be eligible to participate in lucky draw, you will need to complete the passport activity task by visiting exhibitors' booths, listening to talks and completing our surveys.
Agenda